The Health Doctors, Ltd. Reviews
What Our Patients Say
At The Health Doctors, Ltd. we love when patients share with us their feedback and comments after chiropractic care. Please read our patient testimonials below to see what other people have achieved through their tailored treatment plans with us.
Share your stories too! Click here to send us your feedback so that we can help to spread the word about the benefits of natural care from The Health Doctors, Ltd..
For more information, or to schedule an appointment contact us today.
You can also check out our most recent reviews on Google.
---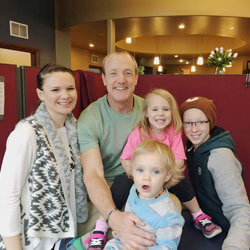 Neck Pain Relief
Prior to coming to the Health Doctors I was healthy and wanted to continue self care. My only issue at the time was a chronic neck pain which was 75% better within the first 2 treatments. My neck pain has been minimal and often not there. However, I have had two children since coming to the practice and the chiropractic has helped me through both pregnancies as well as my children.
I would say that the approach is gentle, causing the mind to think nothing is happening but as the days go on you suddenly recognize that the pain isn't there anymore. We come to the practice as a family every week to maintain health. My family rarely gets sick. I attribute this to consistent chiropractic care.
~ Karen W.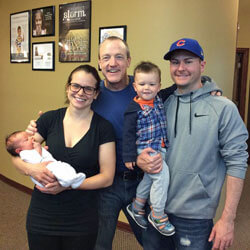 Pediatric and Pregnancy Care
We began seeing The Health Doctors when my son Jack was about 4 months old. Jack was a healthy baby, and we wanted to see a chiropractor regularly for basic wellness. He is now 2 years old, and we continue to see The Health Doctors twice a month as our main health care provider. My son is a happy, healthy toddler and has never contracted more than a few colds his entire life. We have never had to deal with ear infections or other respiratory illnesses, and he has never needed to see a medical doctor. Any general health issues that did come up, The Health Doctors were able to address.
I have also been seeing The Health Doctors during my current pregnancy. It has helped relieve any back and hip discomfort, and overall I have felt great and energized running around with a toddler. We are so fortunate to have found The Health Doctors for our basic wellness needs and preventative care. I know that my family is much healthier because of the outstanding chiropractic care they provide.
~ Rachael M.
Sleeping Better, More Energy & Healthy Kids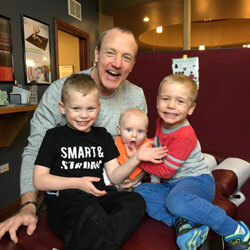 I started seeing The Health Doctors when I was pregnant with my 4th son. I was having issues with my bladder from the pregnancy, felt exhausted frequently, had recurring back pain, and just simply felt stressed and overwhelmed with our latest addition to our family and meeting the demands of our current children. The transition to better health started on my first visit to The Health Doctors simply by understanding the foundation and premise of chiropractic care. The doctors were amazing during this difficult time of my life.
Through a combination of physical adjustments to my body as well as putting into place everyday practices of my own, I felt better both physically and mentally right away. I slept better, had more energy, and found myself in a much brighter place and better mood than ever before. My entire family now sees the Health Doctors regularly and their overall health has improved as well. My kids rarely get sick any longer!
If you are in pain, feel mentally and/or physically exhausted, are on prescription medication, or are just looking for ways to improve your health and feel better in general, it is time to unleash the power of your own body! Dr. Jim and the Health Doctors will not only help with physical adjustments to your body, but will provide coaching and guidance so you can be in charge of your health and begin the path to being healthier and feeling better naturally. Go see them!
~ Courtney M.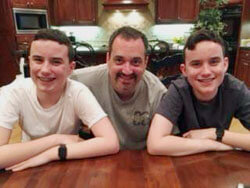 Much More Comfortable
Age was catching up to me, body was sore from sitting at a desk all day. After I started getting adjustments, I felt much better in the beginning. But as time went on and the body started to properly adjust the good feeling was not as frequent. The body was getting used to the new normal. Now I am in a more comfortable state doing small exercises to keep my nervous system communicating well. Whenever I here about other dads having similar issues, I tell them that they just need to start. It won't get better by doing nothing. My boys have been getting adjustments since they were first born. They have been very healthy and hopefully are on the path to stay healthy for their lifetime.
~ John E.
Chronic Sinus Infection Helped
Prior to coming here, I suffered from chronic sinus infections. I would get a little congestion and within a day or two, I would develop head pain and more congestion and sometimes body aches. I was on antibiotics every 6 weeks and sometimes on a steroid too. The ENT knew me and what to prescribe because I was there all the time. In fact, I could just call them and they'd prescribe me something over the phone!! Since beginning chiropractic care last fall, my congestion has almost gone away completely! Right after starting my care, I got extremely congested and blew my nose for weeks. The doctors said that is normal as your body is healing itself.
For the first time probably in 15 years, I did NOT call the ENT in January or February!!! I would tell anyone suffering from this issue that you do not have to suffer with it forever! As The Health Doctors have taught me – whatever your body puts in it, it can take away. And it has for me! The Health Doctors have changed my life. With their chiropractic care, self care techniques and emotional healing, they really do heal people. I am so grateful for being pointed in their direction months ago! Trust them and be patient. It takes time to heal but you will.
~ Julie L.
Gentle, Wonderful Adjustments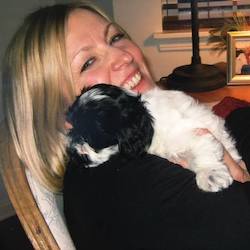 I wanted to touch base with you and give you an update on me, as well as express my gratitude. I often think of how you helped me feel better, and how glad I am that our paths crossed. Thank you for the gentle and wonderful adjustments, and all of your positive energy. I always walked out of your practice feeling like a healthier person, and I tried to hold onto that feeling and carry it with me.
I am feeling much better these days, things are stable, and I am not dependent on oxygen 24/7, just for activity. One of which is riding a bicycle. I never thought I'd get on the bike again, but last May I decided to get a bike and get out there. I started getting out little by little, and I rode all the way from May to October, about 3-4 times a week for an hour or two. The best part was how liberating if felt to be out there in nature! I also keep up with yoga. My lifestyle has changed for the better in so many ways!
In September my Aunts came to visit and we drove to Green Lake, WI where we spent a beautiful week on the serene lake and just enjoyed the quiet nature there. It was my first time traveling in over 2 years and it felt great to get away and to test myself while feeling safe with my family. Now the goal is to go a little further. In December I decided to get a puppy. I wanted a little companion for so long and I finally found the right one. Stardust, my little Havanese, keeps my company and gives me a sense of purpose having to take care of this little being, someone other than myself. And the unconditional love is so priceless.
Sending much gratitude, and many blessings! Thank you.
~ Agnes D.
We got Our Lives Back
I don't even know where to begin on how Dr. Claussen has changed my life and my family's lives. My father was the first in my family to start to see Dr. Claussen. He had been diagnosed with Multiple Sclerosis about three years prior to seeing Dr. Claussen. He had tried everything under the sun starting first with various drugs that he would have to inject into himself anywhere from once a day to once a week. Just like any other drug on the market he was soon hit with all of the side effects and soon was feeling ill all day every day. The drugs were not working at all and he was getting worse as well as feeling worse. His walking began to get worse and worse and simple tasks such as moving throughout the house to go to bed or to the bathroom became more and more difficult. After he had given up on the drugs he and my mother started to search for more answers and 'cures" for this condition.
He had heard through a friend through a friend about this all natural treatment over in Germany that showed great success. So he and my mom hitched a flight to Germany and spent two weeks over there. Every day my dad would go to the clinic and get this treatment. After the first treatment his indigestion was gone. The treatment helped with how he felt, but his walking was not improving. A few months passed and as he was still not getting any better, not getting any worse, but still not living the life that he had always wanted.
One day he had seen a friend that had no idea that he has MS was shocked to see that he was wearing a leg brace and not able to walk very well told him about Dr. Claussen and told him that he needed to get in there. Since my dad has been coming here he has changed dramatically. His attitude on life is much more positive, he is eating to live, and he is learning how to walk again. He is getting back the life that he worked so hard to get all with the help of Dr. Claussen. My mom was with my dad every step of the way and after hearing Dr. Claussen talk with them during his treatments and at different talks she decided to get adjusted also, and that this was something that she wanted our whole family to be a part of. Soon we were all getting adjusted and becoming balanced as a family. A little after I had been getting adjusted I was thrown off course with a job opportunity of a life time to be able to work here. I had no clue what I was getting myself into but it has been one of the most rewarding jobs I can think of, because I get to see miracle after miracle happen in this office and it is so exciting to see the transformations of our patients. There is not one person out there that can not benefit from stepping foot in this office unless they do not want a better, healthier, happier life. I will never forget the first thing that Dr. Claussen ever said to me when he came into the exam room, "you're going to get your dad back" and I have and so much more!
~ Emily F.
Significant Changes
I have been seeing Dr. Claussen for about 6 months and the changes I have experienced are innumerable! My most significant changes include:
Weight loss
Sleeping better
Lower stress level on a daily basis
Enhanced mood
Improved health
Elimination of severe back pain
Specifically, for the first time in 20 years I am free of low back pain!! Prior to seeing Dr. Claussen (even with treatment from other chiropractors), I could not be on my feet for more than five minutes without experiencing great pain and discomfort– not anymore!!
Also, this is the first winter in my entire life when I have not had a cold/flu bug even once! In the past, I have been sick one week each month November thru February. It's like getting an entire month back in my life!
I cannot say enough about everything Dr. Claussen has done for me. He is like a friend, doctor, therapist, chiropractor and coach all rolled into one. I'll continue seeing him for the rest of my days.
Finally the greatest gift you can give yourself is your health and peace of mind. Commit to a couple of visits and you will be sining his praises as I do — I can't tell you how many people I have shared this "gift" with and the amazing effect he has had on their lives as well. It's truly miraculous!!
~ Lisa B.
Saving Lives
About a year ago I was diagnosed with bi-polar disorder. Then I began coming to Dr. Claussen and my disorder released its grip on me and my behavior. Dr. Claussen and his magic saved my life and I want to thank you for that. Now my mind and body are on and that's what Dr. Claussen does for you. So you keep doin' what you are doin' and you will save many more lives!! Thanks.
~ Connell O.
Found Hope, Blessings, and Belief in Myself
Dr. Claussen is such a blessing in my life and children's lives. I became a patient of his two years ago, but mainly for my children's sake. I began to see tremendous growth and change in my twin's development. For example, ear infections ceased, their mobility increased and they were healthier. Dr. Claussen helped me to discontinue taking anti-depressants that I had been on for 7 years. That in itself was huge to me! However, 8 short months ago my life and my children's lives were turned upside down due to a personal family crisis. I truly believed my life was over.
With Dr. Claussen's help, encouraging words, powerful emotional adjustments and his ability to heal my broken spirit, I was given hope. I began to find the blessings in life and began believing in myself again. Dr. Claussen started balancing my three children and myself together. He referred to it as a family adjustment. My girls and I are more connected, surviving and becoming whole again. Today we are thriving, happy and well on our way to emotional healing. I cannot thank Dr. Claussen enough for giving me my life back and helping to heal my mind, body and spirit. I will be forever grateful to him. He is an extraordinary man.
~ Mary K.
Ready to Get Started?
These are only a few of our patient testimonials. To read them all stop by our office or give us a call to schedule an appointment!
CONTACT US »
---
The Health Doctors, Ltd. Reviews | (630) 393-2225